BBSS Rugby's Direct School Admissions (DSA) Criterias link broken
Rugby
 
 
Teachers-in-charge
Ms Bibi Nur Shakirrah (IC)
Mr Gabriel Yang
Mdm Vijayarani Rajesh
Mr Png Choon Bing
Coaches
Coach Sam Chan
Coach Tay Soon Chuan
Student Leaders
'B' Division
Captain: Gareth Seah Ren Xiang (3A4)
Vice-Captain: Aryan Ranjan Singh (3A4)

'C' Division
Captain: Linus You Lijie (2A7)
Vice-Captain: Cheng Jing Rong Isaac (2A5)
Training Days
Skills - Mondays & Fridays: 3pm - 6pm
Physical Conditioning - Wednesdays: 3pm - 4.30pm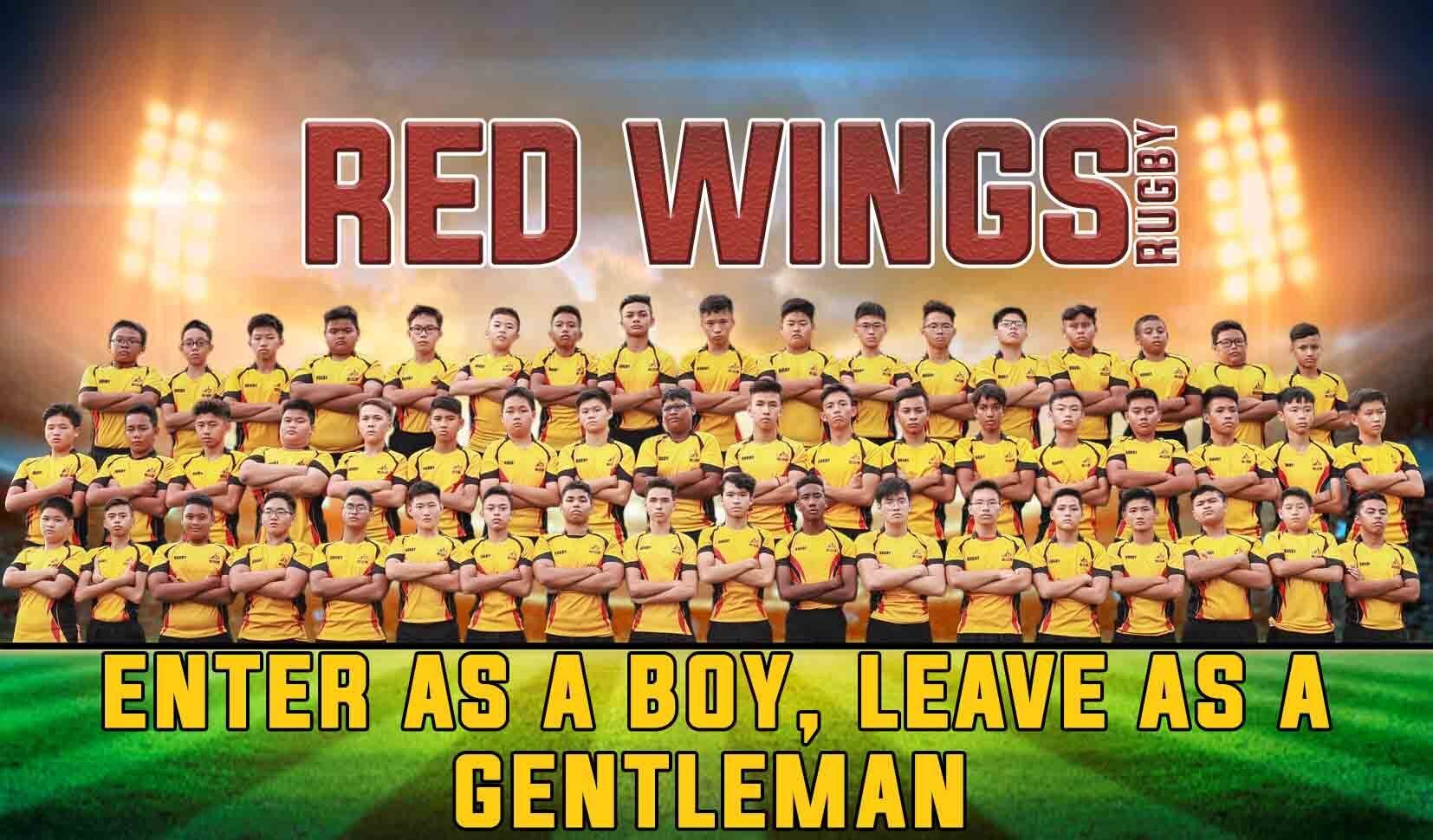 Vision
Enter as a Boy, Leave as a Gentleman
Mission
We believe that every one that joins BBSS Red Wings can be nurtured to achieve their best in all their endeavours - Athlete, Behaviour and our aCademic endeavours.
Enter as a boy, leave as a gentleman; an inspiration we envision for all individuals as we undergo 4 years of holistic development with BBSS Red Wings. As Red Wingers, we strive to  always be our best as Athletes, in our Behaviour and our aCademic endeavours.
We aspire to:
Foster a strong brotherhood among all Red Wings gentlemen.
Encourage each player to experience and enjoy the culture of rugby, and to have fun in playing the sport.
Inspire in our players a strong work ethic, where discipline, integrity, empathy, humility and passion combine into strength of character.
Cultivate an environment of teamwork, camaraderie, dedication, discipline, empathy and respect.
Aspire the highest standards of play.
Create respected ambassadors for the school, and for the sport of rugby.
Achievements
Sporting Achievements

Team Events/Activities

'B' Division

'C' Division

2022

1. National School Games Rugby 'B' Division Championship 2022 (Bowl) - 4th
1. National School Games Rugby 'C' Division Championship 2022 (Bowl) - 1st

· Launch of CCA video

· Rise of Phoenix Challenge 2022

· Organised Spartans Showdown 2022

· Spartans Showdown 2022 Champions (Team-Male)

· Halogen Leadership Masterclass 2022 (Secondary 3)

· Sports CCA Interaction Day

· Red Wings Team-bonding Session

2021
Cancelled due to COVID-19
Cancelled due to COVID-19

· Organised Rise of Phoenix Challenge 2021 (Intra-CCA fitness competition)

· Organised Spartans Showdown 2021
(BBSS first ever Inter-CCA fitness competition)

· Spartans Showdown 2021 Champions (Team)

· Team Lucky Draw

· Secret Santa Gift Exchange

2020

1. National School Games Rugby 'B' Division Championship 2019 (Bowl)

Cancelled

(Due to Co-Vid 19)

· Team BBQ (Organised by Rugby PSG)

·Establishment of BBSS Rugby Team Mask

·Establishment of Online Training Sessions

· Team Study Session

2019

2. National School Games Rugby 'B' Division Championship 2019 (Bowl) - 4th

3. Saints 7s (U17) Rugby Tournament 2019 - 3rd (Plate Category)

4. Raffles 10s (U15) Rugby Tournament 2019: Champions (Bowl Category)

1. National School Games Rugby 'C' Division Championship 2019 (Bowl) - Champions

2. Saints 7s (U14) Rugby Tournament 2019 - Champions (Plate Category)

3. Raffles 10s (U13) Rugby Tournament 2019 - 2nd (Bowl Category)

· Establishment of BBSS Rugby Team Bag

· Annual Training Camp (3D2N)

· Introduction of Mindfulness into team practice

·Team Study Session

· Father-son Bowling cum Bonding Session

· 5D4N Rugby Leadership Development & Cultural Immersion OverseasTrip (Kuala Lumpur, Malaysia)

· Team BBQ (Organised by Rugby PSG)

· Youth Sports Leaders Camp (May and October)

2018

1. Singapore Schools U16 Seven Series 2018 - Champions (Shield Category)

2. Saints 7s (U16) Rugby Tournament 2018 - Participation (Bowl Category)

1. National School Games Rugby 'B' Division Championship 2018 (Bowl) - 3rd

2. Saints 7s (U14) Rugby Tournament 2018 - 3rd (Bowl Category)

3. Singapore Schools U14 Seven Series 2018 - Participation

· Establishment of BBSS Rugby Parent Support Group

· Annual Training Camp (2D1N)

· Team Meal @ Seoul Garden

· HSBC 7s Rugby Clinic with DJ Forbes (All Blacks 7s, ex-captain)

· HSBC 7s Adopt-A-Country (Team Samoa)

· Team VIA (Partnership with One Earth Club) - Coastal Clean-up

·Team Study Session

· Youth Sports Leaders Camp (October)

2017

1. Singapore Schools U16 Seven Series 2017 - Participation

1. Singapore Schools U14 Seven Series 2017

· 2nd (Bowl Category)

· Champions (Shield Category)

·Establishment of BBSS Rugby Team Ball

· Annual Training Camp (2-Day Day Camp)

·Team Meal @ 18 Chefs

·Rugby Clinic with Brumbies (Super Rugby League, Australia)

·Ball boys for Super Rugby Series 2017

·Team VIA (Partnership with One Earth Club) - Coastal Clean-up

·Rugball Games Day (Partnership with Softball)
RED WINGS IN THE NEWS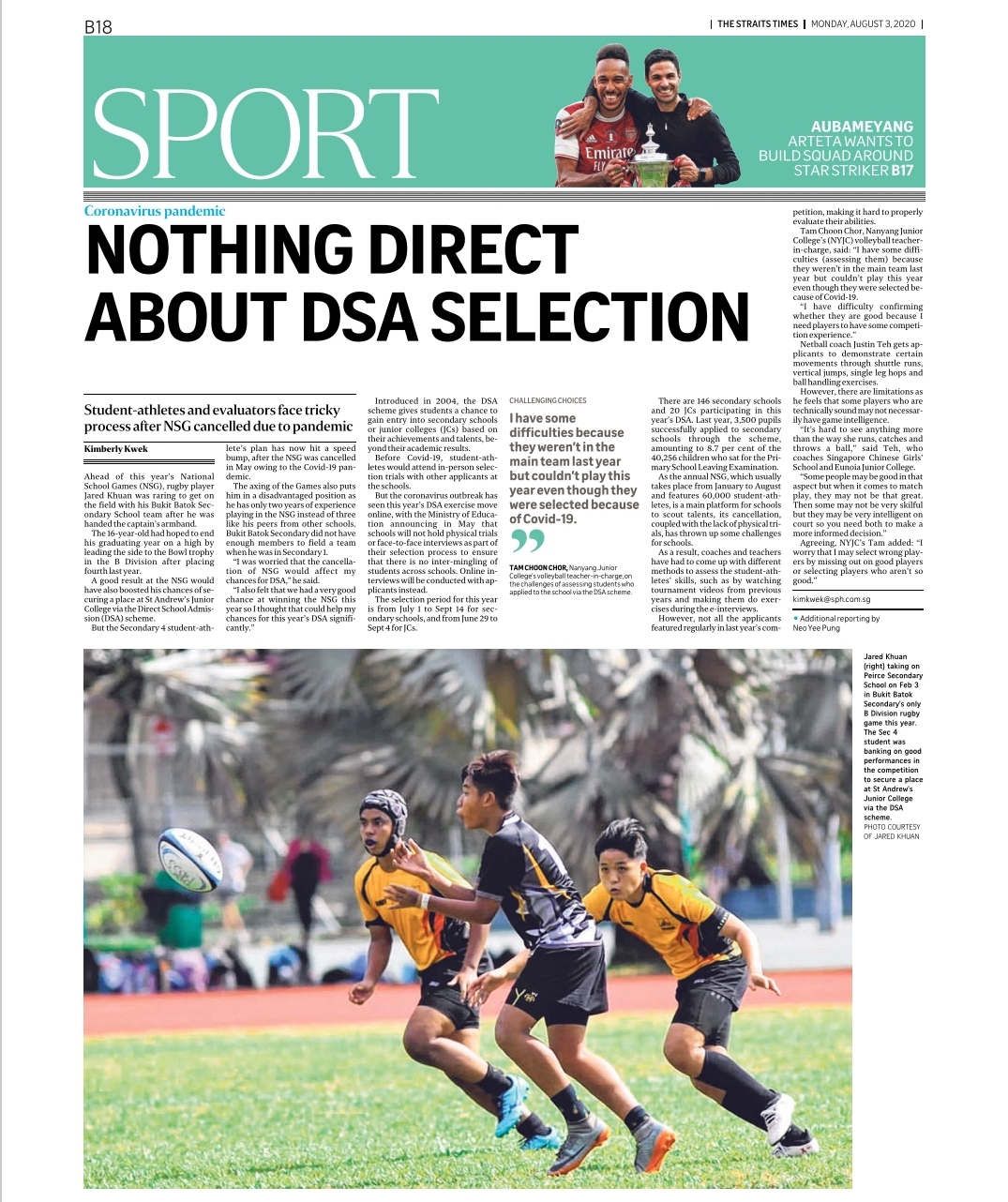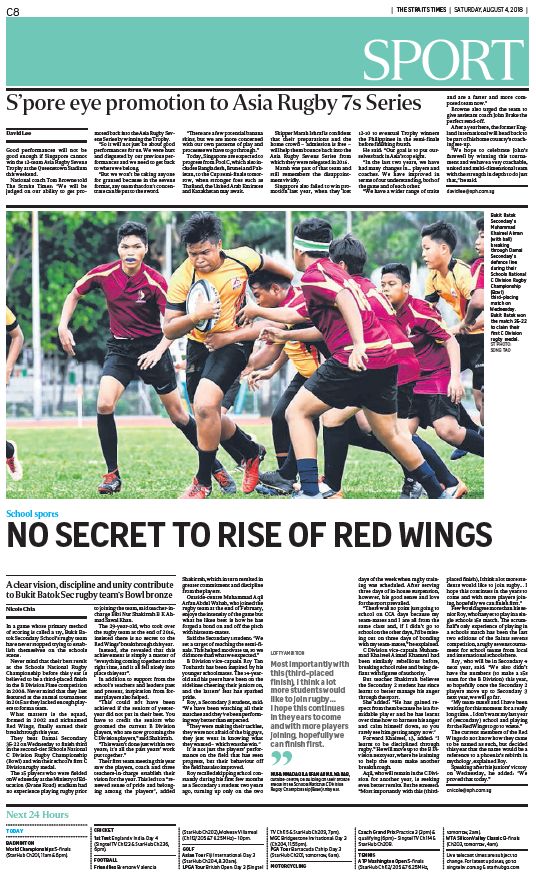 RED WINGS IN ACTION
Competition Video BBSS vs EVG (Highlights):
Competition Video BBSS vs EVG (Full Video):
FIND OUT MORE
Red Wings' activities & events via our Instagram account:

BBSS Rugby's Direct School Admissions (DSA) Criterias:
Find out more
Gallery